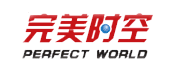 Perfect World is a China-based online game company specializing in MMORPGs. Beijing Perfect World Co. was founded in 2004 by Chi Yufeng, the president of Human Software Corporation. The company aims to develop and market games with Chinese characteristic.
They have teamed with company MAEIT Entertainment to develop the game RaiderZ for the North American release.
External links
Edit
Ad blocker interference detected!
Wikia is a free-to-use site that makes money from advertising. We have a modified experience for viewers using ad blockers

Wikia is not accessible if you've made further modifications. Remove the custom ad blocker rule(s) and the page will load as expected.